I am immensely proud to be the Headteacher of Brymore.  If you have not done so already, I would urge you to visit us so that you can see for yourself what makes us special: the boys themselves. Academically we consistently place in the top 5% of schools nationally for student progress largely due to excellent teaching, small class sizes (average around 16/17), individualised support (as a small school all staff know all students), a practical curriculum that makes the most of our superb facilities and the emphasis on traditional values.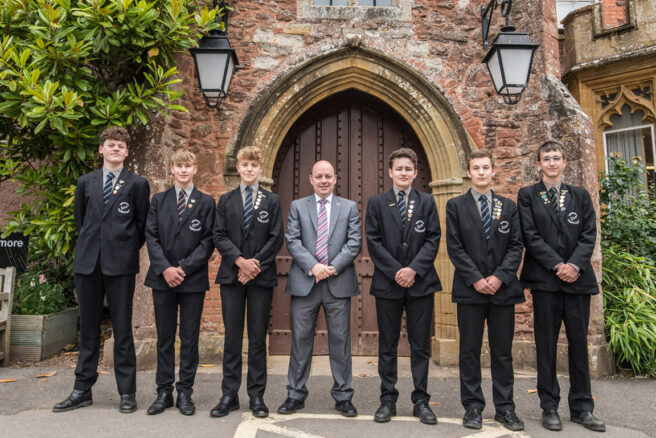 We develop responsibility by expecting students to actually help run the school, through early morning and evening farm duties, maintenance of the beds, borders and grounds, and by assisting with key events throughout the year.  'Diligentia et labore' or labour with diligence sums up the 'Brymore way'.  Manners, respect and hard work embody the traditional values we look to instil in all students so that they are prepared for life beyond Brymore. However we also provide a well rounded education, through an extensive range of extra-curricular activities many of which you will see described elsewhere on this website.
We are a state boarding school, where boarding fees are relatively modest and the education is free. All boarding accommodation has either been built or refurbished in the past few years providing state of the art facilities and, through a dedicated care team, a comfortable home from home. Students also benefit from a 110 acre farm, extensive horticulture facilities including a one acre walled garden (where each student can have their own plot) and glasshouses, a foundry and forge, excellent workshop facilities, an outdoor swimming pool, a brand new teaching block, a well stocked pond for fishing, use of a golf course and driving range, a gym and a mountain bike track all of which are set in fifteen acres of countryside, bordering on the Quantock Hills.
Despite our emphasis on traditional, or even old fashioned values, Brymore continues to look forward. Year twelve students receive an outstanding education through our partnership with Bridgwater College who are also our key sponsors as a newly formed academy. We have also recently extended our age range so that we now take boys from Year 7 in September 2014.
A recent Ofsted inspection revealed 100% of parents would recommend Brymore and that 100% felt their son was happy and safe at school. Why not come and see why for yourself?
Best wishes


Mark Thomas
Headteacher
You can view a copy of our current prospectus here