On Sunday 26th February from 10am until 3pm we are opening up our farm to let you see the lambs and the pregnant ewes…along with some of our other animals. There will be the opportunity to take pictures with the lambs in Cuddle Corner and also bottle feeding slots with the lambs.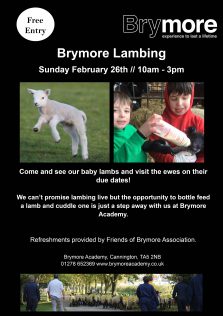 Refreshments provided by volunteers at Friends of Brymore Association (FOBSA). Small ride on tractor rides for children, cow/sheep facepainting, walk the sheep, baby chicks and calves, blacksmith display and tombola.
Dogs are not allowed at this event (due to the stress placed on the pregnant ewes but are welcome to our Summer Fair in June) and pregnant women are advised to stay away from the livestock area.
Parking is available and free, but limited (due to the weather) so please bear with us while we ensure people are safely parked.
The event is free and we have some parking available; please be aware this is the first time we have run this so teething problems may occur and we hope you will be patient.